We're so proud of all the accomplishments of our club members, so here is just a small sprinkling of our club's many successes.
Best Domestic Dog Training Club 2017
We were honoured to receive the award for Best Domestic Dog Training Club 2017 at the inaugural NZ Domestic Dog Training Conference held in Wellington July 2017. We like to think that we're not only of benefit to those people who come to us to get a well mannered dog, but also to the wider community by making better dog-citizens.
Some of our members' outstanding work during 2021...
Rosemary Mortimer and Hector won

 

Obedience Champion
Angelique Aarmodt and Turbo won Obedience Champion
The NDOA (National Dog Obedience Assembly) is held every year alternating between the three regions (Northern, Central and Southern).  This year it was held by Southern Region, in Christchurch, and three of our members were there, representing our club.
They each won their respective tests in the NDOA Teams Events:
Sherrie Macintyre and Ditto won

 

Novice
Brenda Cameron and Wiki won

 

Test A
Angelique Aarmodt and Turbo won

 

Test C

Sherrie and Ditto, Brenda and Wiki and Angelique and Turbo

then made up a TBCOC club team and won the NDOA Interclub competition!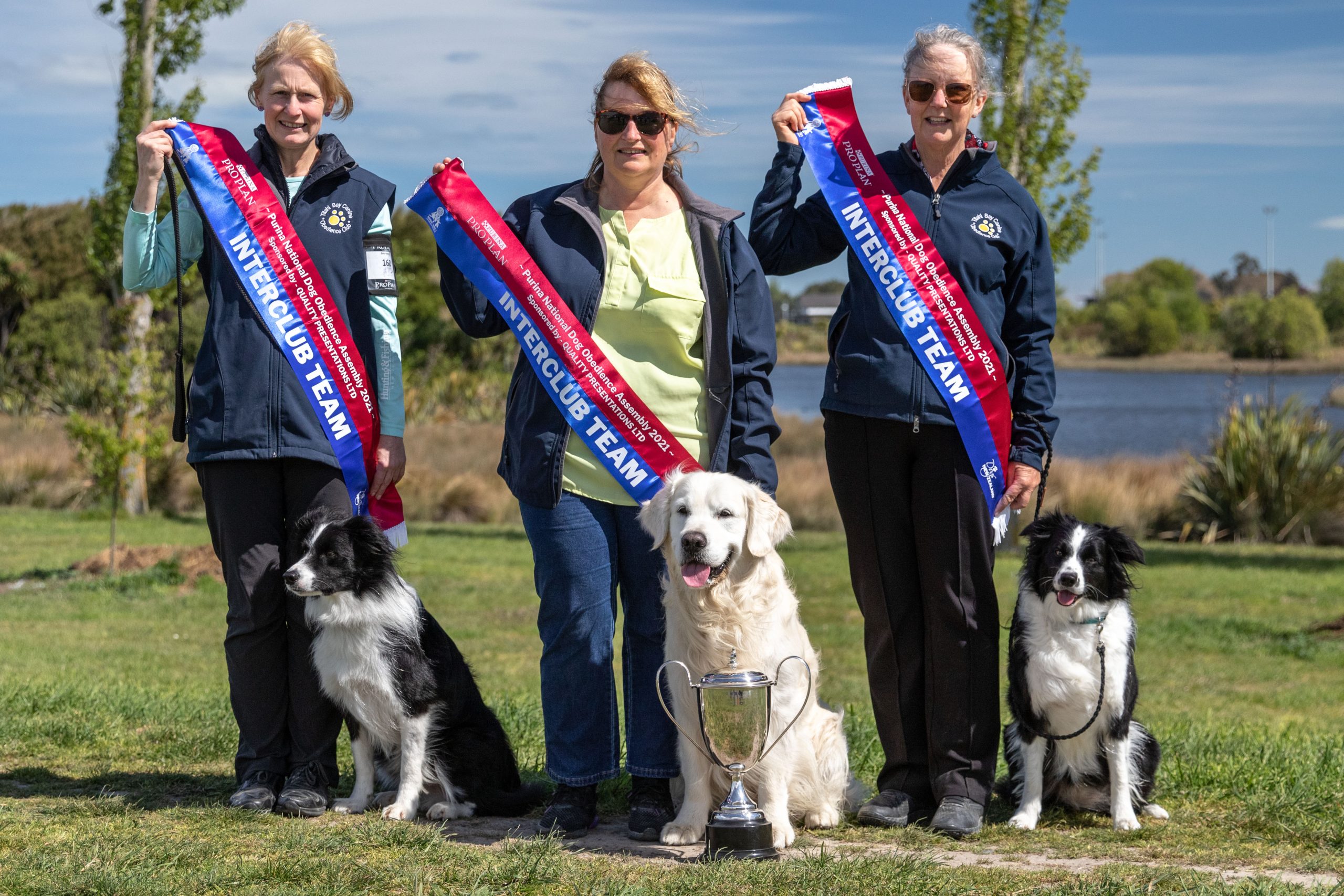 2019 NATIONAL DOG SHOW
Huge congratulations to Sue Paterson and her two beautiful Australian Cattle Dogs who won both Novice and Test A categories at the 2019 National Dog Show in Blenheim. Here is a little info from Sue about her two stars:
Pippi, the blue Australian Cattle Dog is 10 years old and won Novice. Pippi was bought as the family pet and then over time turned into my competition obedience dog because I really enjoyed the training! I didn't start training her for competition obedience until she was three, which is late for a competition dog. She is a pure bred Australian Cattle Dog and I have also completed in Agility and Paws to Music with her. She is completely devoted to the family at home, both human and canine. While I grew up with dogs, Pippi is the first dog I have ever owned.
 
Malu is the red Australian Cattle Dog. She is 4 years old and won Test A. Malu is an intelligent, high-drive, high-energy dog, who needs a job to do, so obedience has become her "job". She loves two things most in life: running fast and barking, preferably both at the same time! She has been a challenge to train and live with, and has taught me so much.